U.S. Coast Guard Cutter Healy is a polar icebreaker designed to conduct a broad range of scientific research activities. Healy is currently underway for the first of two spring 2009 cruises as part of a partnered project between the Bering Ecosystem Study (BEST) and Bering Sea Integrated Ecosystem Research Program (BSIERP). UMCES faculty members and Arctic experts, Jackie Grebmeier and Lee Cooper are the Co-Chief Scientists of the cruise. Read more about this dynamic duo and their latest research efforts.
Working in the Bering Sea...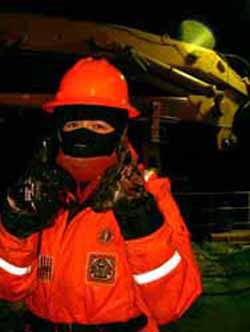 Gonzo Scientist, Maria Ceballos (left) dons her mustang suit and hard hat for working on deck and staying warm in the below freezing temperatures.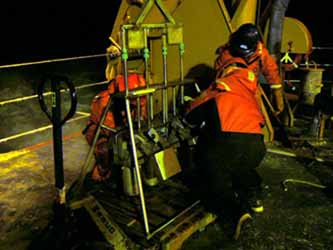 The HAPS-multicorer (shown right) was deployed for collecting the cores that Maria is using to conduct sediment oxygen and nutrient exchange (SONE) experiments while at sea.
Maria had the unique opportunity to actually go onto the ice and collect samples. This photo was taken while standing on the ice and looking back at Healy's bow (left).